Greg Benz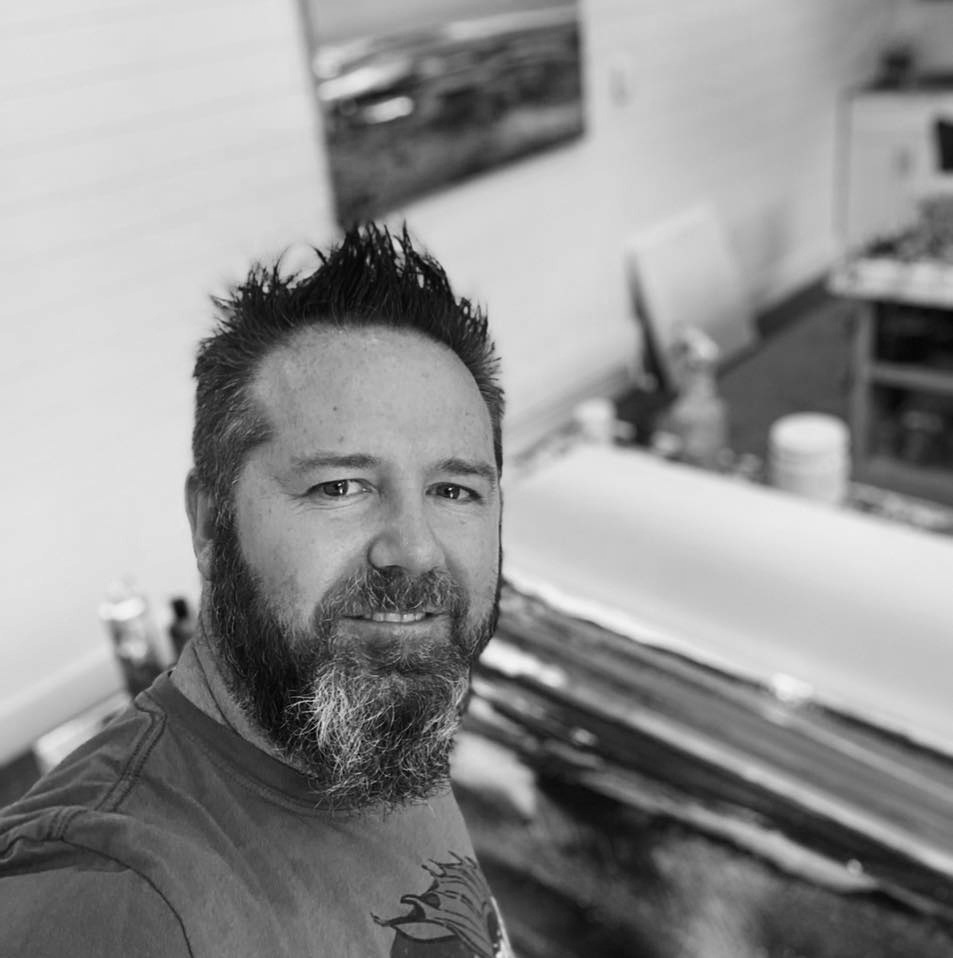 GREG BENZ
London, Ontario artist Greg Benz. @gregbenz_artwork is a Canadian artist who creates fascinating work using acrylic, polymer, and resin. Benz has been practicing for over ten years. Working primarily with abstractly and mono series mixing acrylic and different colours of polymers while finishing them off with a high glossy resign. These pieces allow their audience to experience different reactions for each individuals own imagination. His more recent work focuses on his landscape series. A new look at horizons through natural tones and actual texture. The spark different seasons and draw different emotion from each different viewer.
HIS HIGHLY ACCLAIMED WORK IN RESIN IS MORE EXPLOSIVE. THE IMAGES ARE PRIMORDIAL, WITH THE MASH-UP OF COLORS AND PATTERNS GIVING THE IMPRESSION OF ACTS OF VIOLENT CREATION IN DEEP SPACE AS PLASMA ENTITIES COLLIDE. 
HAVING WORKED IN OTHER MEDIA — INCLUDING DIGITAL PRINTS — SINCE GRADUATING FROM ONTARIO'S BEALART, BENZ HAS ALSO HAD A RICH CAREER AS A DJ AND PRODUCER OF ELECTRONICA. THIS HAS ALLOWED HIM TO TRAVEL A GREAT DEAL AND BE A PLAYER IN A WIDE RANGE OF CREATIVE ENDEAVORS.
"WITH MY LATEST WORK I'M TRYING TO PUSH THE BOUNDARIES OF THE ABSTRACT LANDSCAPE IDEA. USING ACRYLIC PAINT AND MIXING IT WITH DIFFERENT POLYMERS AND RESIN TO PUSH HOW WE LOOK AT LANDSCAPES AND NATURE. MY SMALLER SERIES FOCUSES MORE ON A REPRESENTATIONAL HORIZON LINE BUT IS STILL SEMI ABSTRACT AND HAS MORE TEXTURE AND EARTHY FEEL. IT STARTED OFF BASED ON OUR CANADIAN WINTER LANDSCAPES HERE IN ONTARIO AND HAS GROWN FROM THAT IDEA"
Past Exhibitions:
2019 Restored Horizons Solo Show @ Jac's House (July) / St Thomas, Ontario
2019 London Artist Studio Tour / London, Ontario
2018  Abstract Group Show @ Petroff Gallery (October) / Toronto, Ontario
2018  Luminous Group Show @ Petroff Gallery (march) / Toronto, Ontario
2017 Solo show @ Shane Norrie Contemporary (April) / Stratford, Ontario
2016 group show @ anderson brewery (December) / London, ontario
2016 group show @ unklecollective Show(SEPTEMBER) / London, Ontario
2016 Group Show @ Unklecollective Show(APRIL) / Toronto, Ontario
2016 Group Show @ Unklecollective Show(MARCH) / London, Ontario
2015 Solo Show @ In Home Artist Tour / Show, London, Ontario
2015 Solo Show @ The Arts Project, London, Ontario
2014 Solo Show @ The Arts Project, London, Ontario
2013 Interpretations, Solo Show @ The Arts Project, London, Ontario
2013 Group Show @ The Arts Project, London, Ontario
2013 Group Show @ Arta Gallery, Toronto, Ontario
2012 Solo Show @ The Arts Project, London, Ontario
2012 Solo Show @ The Blu Duby, London, Ontario
2012 Six Month Showing @ Leonardo Galleries, Yorkville, Ontario
2012 Group show @ Arta Gallery, Toronto, Ontario
2011 Solo Show @ The Arts Project, London, Ontario
2011 Group show(Fall Art Sale) @ Art Gallery of Hamilton, Hamilton, Ontario
2010 Group show(Fall Art Sale) @ Art Gallery of Hamilton , Hamilton, Ontario
2009 Solo Show @ The Arts Project, London, Ontario
2008 Solo Show @ The Arts Project, London, Ontario
2008 Group show @ Chameleon Nation, Kingston, Ontario