Logan Ford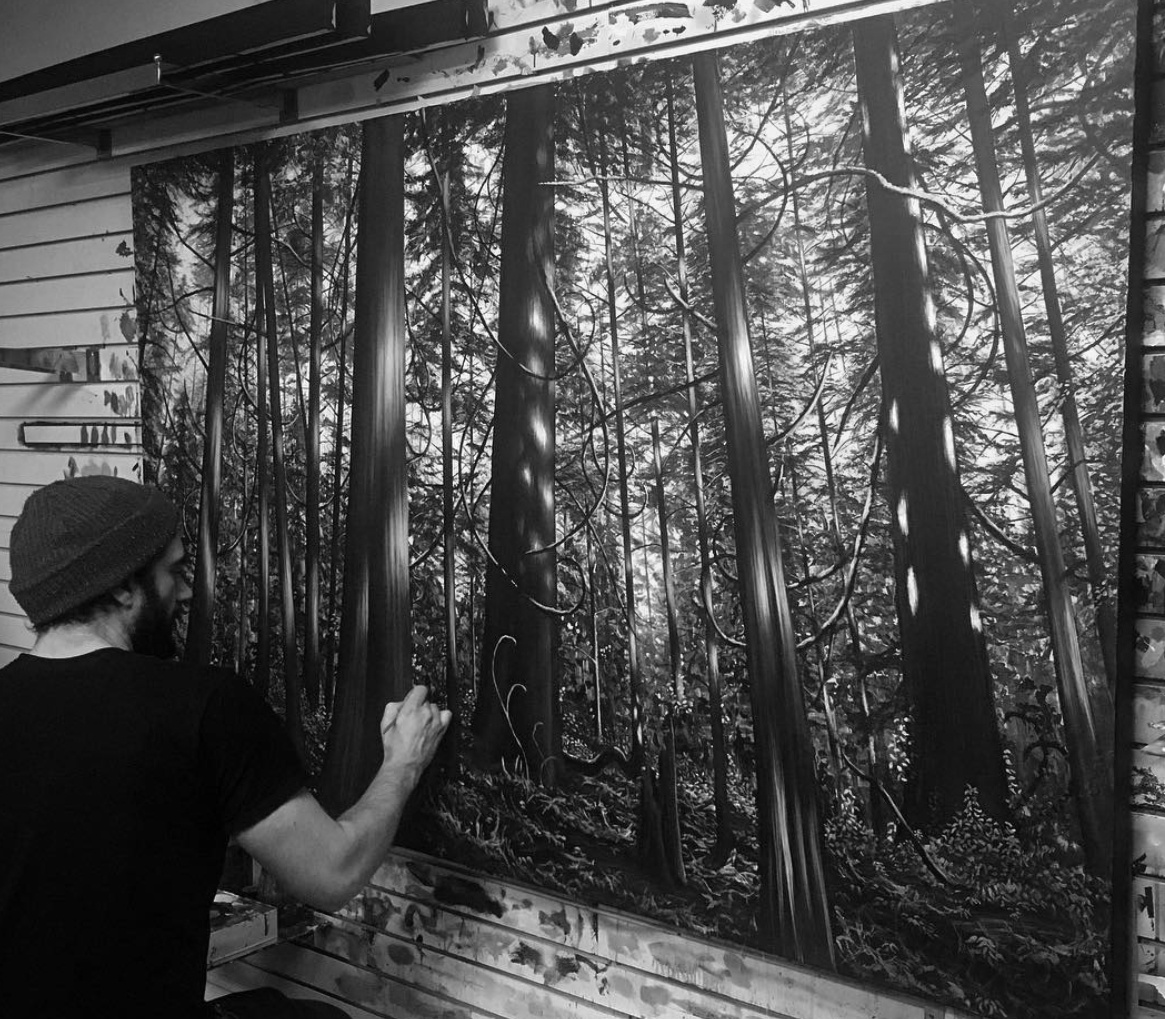 LOGAN FORD
Born in 1985 in Calgary, AB. As the son of a professional artist, Logan has been painting and studying art independently for most of his life. His work is inspired primarily by the natural world, depicting pristine, ethereal landscapes, seemingly untouched by the hands of mankind. Since moving to Vancouver Island in 2007, Logan has drawn a great deal of inspiration from the west coast landscape. His work is featured in public and private collections across North America, Europe, and Australia.
Logan has a hyperrealistic style of painting. His work is dedicated to nature. While his pieces depict a natural location he paints strictly from memory with no visual reference. 

Ford is no doubt influenced by the natural world around him. And it really shows in his pieces. The works he creates make the audience think they are stepping into a forest, walking across a beach or climbing a mountain. These aren't your every day locations. They're works that require an adventure to witness. His skills are those of super attentive detail that most cameras cannot capture. He's almost over focused. And this shocks the viewer into thinking they are a part of the natural landscape. His subject matter all revolve around Mother Nature and its pure raw existence. He captures beautiful landscapes in their true state and "untouched by mankind". Almost suggesting their innocence and beauty standing alone. These are frozen moments of nature that can never be disturbed or impacted by an unnatural event. Beauty in its greatest form.
Past Exhibitions: 
2019 - Sidney Fine Art Show - , Sidney, BC
2018 - Rainforests and Mythologies - Fortune Gallery, Victoria, BC
2017 - Tidelines - Trounce Alley Gallery, Victoria, BC
2017 - Pastiche - Trounce Alley Gallery, Victoria, BC
2017 - Convergence - Studio Robazzo, Victoria, BC
2016 - Solo Exhibition/ Artist in Residence - Union Club of BC, Victoria, BC
2016 - Anthesis - Rockslide Gallery, Victoria, BC
2015 - Out of the Dark - Studio Robazzo, Victoria, BC
2015 - In Cahoots (Synergy) - Slide Room Gallery, Victoria, BC
2015 - Solo exhibition/Artist in Residence - Parkside Hotel, Victoria, BC
2015 - "Endless" - Group Show - Rockslide Gallery, Victoria, BC
2014 - Sooke Fine Arts Show - , Sooke, BC
2014 - Solo exhibition/ Artist in residence - The Inn at Laurel Point, Victoria, BC
2013 - Difference and Repetition - Slide Room Gallery, Victoria, BC
2013 - Sooke Fine Arts Show - , Sooke, BC
2013 - Solo Exhibition/ Artist in residence - Delta Oceanpoint Hotel, Victoria, BC
2013 - Group show - The Apartment Gallery, Victoria, BC
2012 - Solo Exhibition/ Artist in residence - Coast Harbourside Hotel, Victoria, BC
2012 - QotC II - 50/50 Arts Collective, Victoria, BC
2012 - Solo Exhibition/ Artist in residence - Chateau Victoria Hotel, Victoria, BC
2012 - Solo Exhibition - Ministry of Casual Living, Victoria, BC
2012 - Field Notes - Victoria Emerging Art Gallery, Victoria, BC
2012 - Boudoir - Victoria Emerging Art Gallery, Victoria, BC
2011 - The Underlying Spirit - Madrona Gallery, Victoria, BC
2011 - The Islanders - Victoria Emerging Art Gallery, Victoria, BC
2011 - Step Up - Nanaimo Art Gallery, Nanaimo, BC
2010 - Lunar Effect - Ministry of Casual Living, Victoria, BC
2010 - Los Otros - Oni, Toronto, ON
2010 - Solo Exhibition - Mackenzie Studio, Calgary, AB
2009 - Timewave Zero - Art Space, Victoria, BC